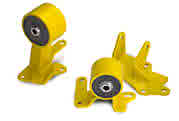 Mount kits/ Swap drop in kits
ProFab Designs
B-Series into 88-91 Honda Civic / CRX

Preloads the motor for perfect axle alignment
Allows maximum clearance for A/C, Turbo Kits, or
Race Headers.
Includes all hardware needed.
Nicest fitting mount kit, quick installs




*

Pro Fab. Replacement mounts for 92-95 Honda Civic

Preloads the motor for perfect axle alignment
Allows maximum clearance for A/C, Turbo Kits, or
Race Headers.
Includes all hardware needed.
Nicest fitting mount kit, quick installs


Pro Fab. Driver side mount for 96-2000 Honda Civic
96-00 Honda Civic drivers side replacement mount.
Fits B and D Series motors
New design replaces the weak factory mount
50A - 70A Urethane
100% Urethane
Lifetime Warranty
Nicest fitting mount kit, quick installs




*

Pro Fab.Replacement Mounts for 94-2001 Acura Integra

Preloads the motor for perfect axle alignment
Allows maximum clearance for A/C, Turbo Kits, or
Race Headers.
Includes all hardware needed.
Nicest fitting mount kit, quick installs

Will also fit 92-95 Honda Civic with a B-series motor swap


 

Pro Fab. H-series into 92-95 Honda Civic / 94-2001 Acura Integra

Preloads the motor for perfect axle alignment
Allows maximum clearance for A/C, Turbo Kits, or
Race Headers.
Includes all hardware needed.
Nicest fitting mount kit, quick installs


 

Pro Fab. H-series into 96-2000 Honda Civic

Preloads the motor for perfect axle alignment
Allows maximum clearance for A/C, Turbo Kits, or
Race Headers.
Includes all hardware needed.
Nicest fitting mount kit, quick installs


 

Pro Fab. K-series into 92-95 Honda Civic / 94-01 Acura Integra

Preloads the motor for perfect axle alignment
Allows maximum clearance for A/C, Turbo Kits, or
Race Headers.
Includes all hardware needed.
Nicest fitting mount kit, quick installs


 
*Note: Pro-Fab mount kits are no longer offered in Aluminum. Picture shown are for illustration purposes only.
Madd Enginering-

88-91 Honda Civic/ CRX B-series 3 piece motor mount drop-in kit.

Preloads the motor for perfect axle alignment
Allows maximum clearance for A/C, Turbo Kits, or
Race Headers.
(B16, B17, B18) "Black" (pictured below)

List: $365

Sale Price:

$285 with free shipping

Swap Accessories
SSR- 88-91 Honda Civic/ CRX. Custom length B-series "Shift-Linkage" 2 piece set (bars only) no core required. (B16, B17, B18)
List: $195
Our Price:
$185 with free shipping
SSR/ Place Racing- B16A Throttle Cable Bracket. Alows the use of Stock SOHC Honda Civic throttle cable.
$25 with free shipping "temp out of stock"
Honda - B16A/ B18 Throttle Cable . Rplaces the Stock SOHC Honda Civic throttle cable. For use with 88-91 Honda Civic & 90-93 Acura Integra
$37 shipped
SSR- LS-VTEC/ B20-VTEC "Oil-Line Kit" 5 pc. kit. (1 steelbraided oil-line, 3 brass fitings, 1 oil-port head plug.) Used in building LS & B20-VTEC motors.
$95 shipped
Honda- Type-R Oil-Pump. (ITR)
More oil-pressure, Works with all B-series motors (B16, B17, B18, B20B) An LS-VTEC must.
$150 with free shipping
*SSR/ Madd Engineering-88-91 Honda Civic/ CRX. 2 point to 4 point engine wiring harrness convertion. (required when swaping on a 88-91 Civic/ CRX "DX" model) "core required". (D16,B16, B17, B18, ZC) Instructions on how to install your new harrness are included.
Note: standard harrness dose not include VTEC wires. I your'e running a 1rst gen B16 & would like us to add the VTEC wires to your harrness.The price is $245.
List: $265
Our Price:
$195 with free return shipping
*
To purchase an Wiring Harrness Modification upgrade.Choose your upgrade. Click "buy-it now" button, proceed & with check out. Wiring Harrness upgrade price includes the return shipping of your modified Harrness. However you must "SHIP US YOUR CORE Engine Wiring Harrness" so that we may preform your upgrade. Once we receive your stock Harrness we work it & ship it back to you. We are not responsible for lost or damaged goods during this process. All cores must be the same year as selction. Specifations given are aproximent and may vary from Harrness 2 Harrrnes. Call for more info.If you don't have a core check out our used parts site
http://swapshopmotors.com
we may have it there.
Shipping Address: Swap Shop Racing * 743 w Route 66 #5 * Glendora Ca. 91740.



Swap Shop Racing * 650 n Barranca ave. * Covina * Ca 91723 * (626) 260-4052
Some parts & products sold are not street-leagal & are intended for high-performance off-road use only. All parts sold on this site (all-motor.com) are sold as-is, aswell all sales are final. Shipping is available within the Contenental US only.
Pictures displayed are for illustration purpose only & may not be of actual part or product.
"SSR" name stands for Swap Shop Racing